Remy is a supporting character of Big City Greens. He is Cricket's best friend.
Physical Appearance
Physical
He's about the same height as Tilly and appeared as a rather chubby kid who has brown skin with blackish-purpleish hair.
Attire
He wears glasses, a light violet sweater with a red sleeveless shirt, khaki shorts, and black and blue shoes with white socks.
Personality
In the episode Space Chicken, he was pretty shy at first, but being around with Tilly and Cricket, he became more extroverted. He's basically described as shy, smart, a great friend, a good problem solver, and good at making decisions.
Episodes
Gallery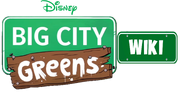 Trivia
His appearance is heavily similar to Irwin from Grim Adventures with Billy and Mandy.
He's the only character in the series that doesn't have his skin color similar to other characters.
In Tilly's Goat, he explained that his parents won't allow him to have a dog because he's allergic to dogs by touch.